The Blocking Card - A Wise Choice for Identity Theft Protection!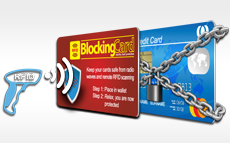 The Blocking Card adds another layer of protection, helping to keep your credit and debit cards safe from radio waves and remote RFID scanning. Drawing energy from any RFID scanner within range, the Blocking Card instantly creates a surrounding electronic field making all 13.56MHz cards virtually invisible to RFID & NFC scanners.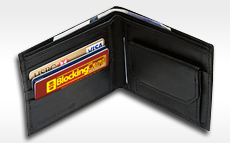 Instructions :
Step 1: Place in center of wallet
Step 2: Relax, as you now have enhanced protection
(No battery required)
Note: The electronic field produced by the Blocking Card has a limited effective range. For best protection, place the Blocking Card directly in front (or back) of your credit and debit cards, as shown in the image to the right. Certain wallet layouts may require 2 Blocking Cards to ensure the highest coverage of protection.